It's Friday. You've just come home from a long week of work and your girls have invited you for a night out of drinks and fun. Despite your feet aching, your hair not being washed and your heart desperately yearning for your remote to watch Netflix in bed – you decide to go. That silk black dress that you know is figure hugging is eagerly staring back at you as it lays on your bed.. but then your head slowly starts to drop down almost as if you are a baby struggling to stay awake as you look at your "FUPA"
Okay story telling is over- let's address the elephant in the room. Orrr page…
Yes, the infamous BBL, the abbreviation that is going all around the streams of social media and has now become the new trend/phase lately causing numerous of girls to go under the knife and causes numerous amounts of debates online. And here I am to add my own 2 cents into it.
Why am I calling it a dilemma? :
I decided to name this post the BBL dilemma only based on the reason that I am literally stuck on whether I support the option to have a procedure done and whether not to. I wouldn't say I'm contradicting myself by supporting two different options but let's just say I am in support of a person's choice to change an insecurity if they have the means to and it is not detrimental to anyone's wellbeing. However, I am also in much support of women not automatically succumbing to social trends based on their body part and then going under the knife is then seen as their only option to getting rid of a body part that society has deemed unflattering. So, since I haven't come to a solid conclusion about which side, I'm on I will call it a dilemma.
The Biology Lesson:
BBL'S or Brazilian Butt Lifts is a surgical procedure in which fat is transferred from different body parts such as the abdomen, hips, lower back and thighs through liposuction and then transferred to the butt to create a desired look of a larger butt or a curvier body.
I can't pinpoint exactly when it started to be on the rise in terms of popularity, but I believe it began to be an American craze before it crossed borders to the UK. According to the BBC there are several reasons why BBL's cause severe damage or even death to women, such as injecting the fat the deep muscle tissue which can be incorrectly put into the veins, fat being transferred to the bloodstream and then to the heart, or it being done by inexperienced practitioners.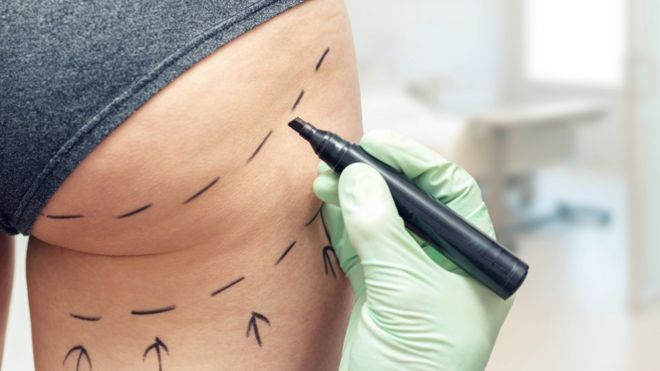 Average People:
This whole post was inspired after watching Live from Layfield's YouTube video talking about the problem of average people (mainly being influencers, youtubers etc) getting these procedures done. It leaves us to really question where the line has to be drawn with it. I like the points they were making, and it really made me question some of the things regarding these surgical procedures, one being about insecurity.
I've started to notice that you are never really going to be happy with your insecurities, whether it be the size of your height, your FUPA or the size of your butt, how it doesn't agree with the size that society has deemed to be acceptable. But the fact that going under the knife to create something that agrees with societal standards, doesn't mean deep down you have changed your insecurity, you have almost just masked it.
So, when its average people promoting this procedure and 'influencing' to follow suit, I guess it leads us to question are they really influencing body confidence, or influencing societal standards?
Solutions:
Like the YouTube video said, I believe the main solution to this is to know who you are in Christ/ or at least know your worth if you are not religious. God did not make any mistake when making you, this is evident by making you very unique to everyone else, no one else has your fingerprint even, if you think God made you the same would he have let things such as the amount of hairs on your head be the same as everyone else's? I'm not trying to preach here but its' food for thought.
Others include:
-Limiting your social media time: One tip that Is recommended is to have a limit on your social media time, I would say Instagram the most, bodies are plastered constantly all over the explore page and it can be discouraging to one's eye. If it's really affecting, you decrease your time
-Verbal agreements: if this means standing in the mirror every day for 5 minutes repeating to yourself "I am happy with my body" then by all means do so. Verbally repeating something to yourself each day will aid in increasing your self-confidence.
Thanks for reading x